"The key to your success is to fully understand how to apply your greatest talents and strengths in your everyday life."
– Don Clifton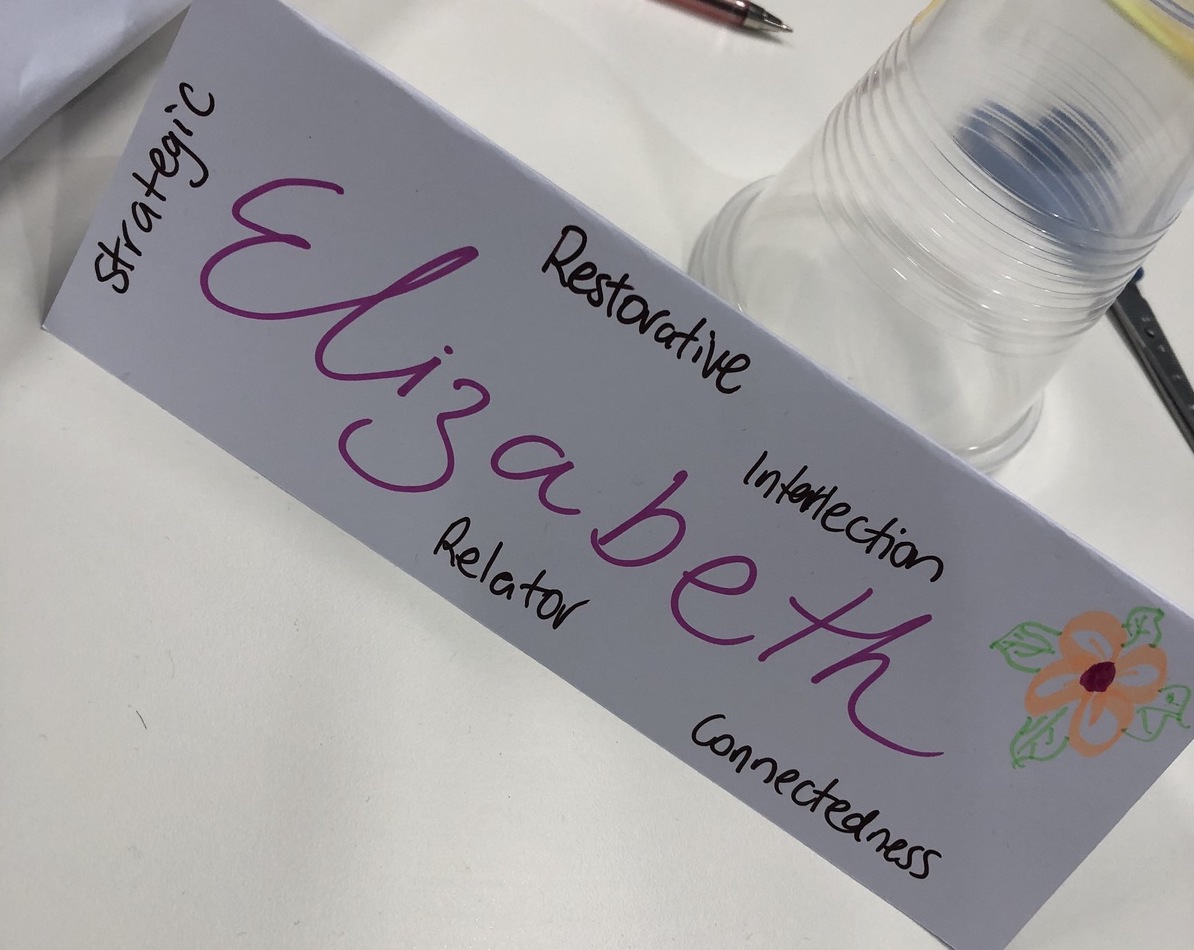 Do you know your Strengths?
Do you know how they help you be authentically you?
As a leader do you know how to create a culture where people can thrive through their strengths?
I truly believe in the power, impact and importance of people knowing and living their strengths. I have experienced personally the impact of knowing, developing and applying my dominate strengths and witnessed it with the thousands of people I've worked with individually or in teams.
CliftonStrengths provides an approach and language for leaders to not only develop their team members, but to have the tough conversations as well.
​In early 2012, I received the New York Times best-selling book, StrengthsFinder® 2.0 and completed my online strengths assessment. At the point I had no idea what it would open me up to and lead me to a passion for strengths. Learning about my Top 5 Strengths was eye opening. It provided me a different focus, moving from trying to be good at lots of things to focusing on my strengths. Understanding what made me unique and how I can be at my best. Moving to embracing my strengths helped me also understand my weaknesses (when I over play them) and how they are part of who I am. For me personally, it has also helped me be successful in business, as a husband, father and well, just as a person.
My Top 5 Strengths are
Relator®, Futuristic®, Individualization®, Communication® and Responsibility®.
You can read more of my story in this blog here.
CliftonStrengths
The first step is knowing your strengths and that's where CliftonStrengths® comes in. The online assessment (which nearly 5,000 people complete everyday!) is the product of over 50 years of research by Don Clifton, the grandfather of strengths-based psychology. Clifton's research focused on what makes people successful. The assessment identifies a set of Talents, unique to you—talents that you can use to grow and succeed at work, home and in your community.
CliftonStrengths® provides an inspiring, positive language and descriptions to identify and name talents, confidently talk about them and intentionally use them.
We are all unique and this difference provides opportunities for greater teamwork, collaboration, performance and a state of flow. No matter what you want to achieve, your infinite potential rests in what you naturally do best. Creating a strengths-based workplace and investing in employee talent with the CliftonStrengths® not only brings out the best in employees — it improves engagement and organisational success. Our workshops and coaching will help you claim your strengths, understand what you naturally do best through your dominant talents and how to more consciously aim them for your success.
Through the research of Gallup, did You Know?
Engagement
Managers who predominantly focus on employees' strengths reduce active disengagement to an astoundingly low 1%
Life Quality
Are three TIMES as likely to report having an excellent quality of life
Productivity
People who learn to use their strengths every day have 7.8% greater productivity
Job Satisfaction
Are six TIMES as likely to be engaged in their jobs
Profitability
Teams who receive strengths feedback have 8.9% greater profitability
Creativity
People using their strengths are happier, more engaged, productive and creative
People aren't well-rounded, however teams can be…
Strengths-Based Partnerships
Inspire My Business partners with organisations to develop strengths based cultures and improved performance, through inspired leaders, engaged teams and unlocking people's strengths.  We have helped over 1,500 people understand their strengths through team workshops and leadership coaching. Whilst we love Strengths, we don't let it blind our approach. Through structured conversations and surveys we customise our approach to ensure your specific goals are met and challenges are addressed. Our experiential workshops are designed for maximum training transfer.  We believe people learn and grow when there is a balanced mix of fun and challenge and our workshops are designed to engage and empower through interactive activities, facilitated exploratory discussions and action planning.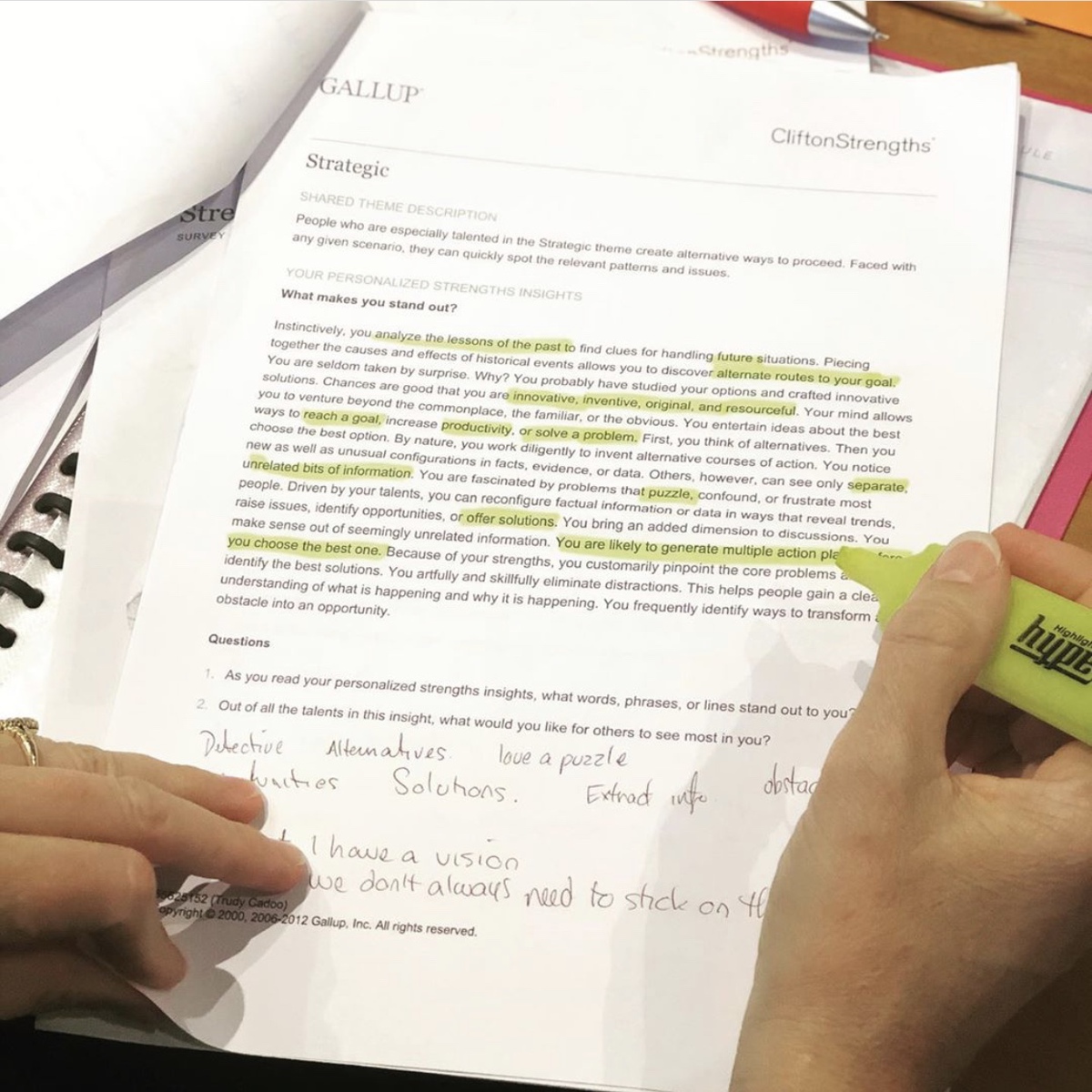 Our Strengths Approach Include…
A foundational understanding of CliftonStrengths® and the benefits of a strengths-based culture.
Understanding your personal Strengths Reports and how they help you be successful in your role and for your development.
Greater awareness of strengths and weaknesses, to build partnerships and increase collaboration.
Strategies to apply your strengths, such as to build trust, communicate, make decisions, manage conflict and stress.
Insights into drawing on each other's strengths, experiences and industry / organisation knowledge.
Greater understanding of the contribution of the different roles and responsibilities in the team.
Activities, peer to peer interactions and lots of learning fun.
Follow up communication to maximise learning and increase training transfer.
If you're after a training session where you sit down for 8 hours with hundreds of power point slides our workshops are not for you!
A strengths-based approach helps not only understand yourself better, but connect and understand those around you.
What Inspire My Business Clients Are Saying…
"helps me understand how am I'm going to progress towards to my goals."
"I now recognise the over extension of my strengths and when they are weaknesses"
"strengths has given me the permission to be me"
"CliftonStrengths®  has validated and confirmed some of my leadership approaches and help me improve my conscious leadership"
"exploring our strengths has helped us build understanding and trust within the team"
"when assigning people tasks on our project, through knowing their strengths, I now know who to assign different work to for our success."
"I now understand my partner better & see how we've been trying to fix each other.  The language of CliftonStrengths® has enabled us to talk about our differences without making each other wrong."
ACKNOWLEDGEMENT OF COUNTRY
We acknowledge the Traditional Custodians of NSW, and their continued connection to land, water and culture.
We are based on Awabakal country and feel privileged to be on this land. We pay our respects to Elders past, present and emerging.