Why focus on Strengths
The key to your success is to fully understand how to apply your greatest talents and strengths in your everyday life. I truly believe this, have experienced personally the impact of knowing, developing and apply my strengths and witnessed it with the hundreds of people I've worked with individually or in teams.
The first step is knowing your strengths and that's where StrengthsFinder® comes in.
The
Clifton StrengthsFinder® assessment
is the product of over 40 years of research in the field of Positive Psychology focusing on what makes people successful. It identifies a set of Talents, unique to you—talents that you can use to Grow and Succeed.
The Clifton StrengthsFinder® tells you how you're talented. It identifies what you naturally do best. It provides individualized results that name your unique dominant talents. It shows you how your uniqueness and how to succeed by turning your talents into strengths.
A simple language to describe your own talents and the talents of others. StrengthsFinder® provides an inspiring, positive language and descriptions to identify and name talents, confidently talk about them and intentionally use them.
Clifton StrengthsFinder is your first step to living your best life. At work, home and in your community. We are all unique and this difference provides opportunities for greater teamwork, collaboration, performance and a state of flow. No matter what you want to achieve, your infinite potential rests in what you naturally do best.
Creating a strengths-based workplace and investing in employee talent with the Clifton StrengthsFinder not only brings out the best in employees — it improves organisational success.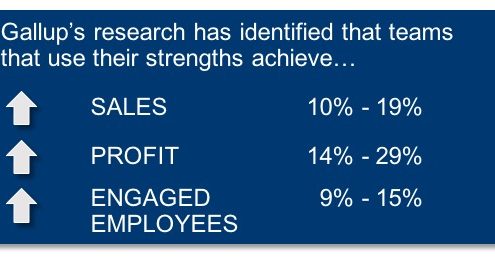 STRENGTHS PARTNERSHIPS
Inspire My Business partners with organisations to develop strengths based cultures and improved performance, through inspired leaders, engaged teams and unlocking people's strengths.  We customise our approach to ensure your specific goals are met and challenges are addressed. Our workshops are designed for maximum training transfer.  We believe people learn and grow when there is a balanced mix of fun and challenge and our woekshops are designed to engae and empower through interactive activites and facilitated exploratory discussions.
STRENGTHS WORKSHOPS INCLUDE…
A foundational understanding of the Clifton StrengthsFinder and the benefits of a strengths-based culture

claim individual strengths, understanding personal Strengths Reports and how they help you be successful in your role and for your development.

Greater awareness of strengths and weaknesses, to build partnerships to maximize their contribution to the team and organisation.

Using strengths to build trust, communicate, make decisions, managing conflict, giving and receiving feedback.

A more effective team, which collaborates and draws on each other's strengths, experiences and industry / organisation knowledge.

Greater understanding of the contribution of the different roles and responsibilities in the team.

Initial application for team performance.

Activities, peer to peer interactions and fun.
If you're after a training session where you sit down for 8 hours with hundreds of power point slides our workshops are not for you!
Workshop follow up includes…
Post workshop communication to continue team member learning and application of skills and tools.

Development of embedding plan to integrate strengths language and tools into organisation culture, processes and environment.

Success factors and workshop review and reporting.
WHAT INSPIRE MY BUSINESS CLIENTS ARE SAYING…
 MY PERSONAL STORY…
I was first introduced to StrengthsFinder in 2012 when joining a new organisation.  I was handed the StrengthsFinder 2.0 book and told to complete my strengths assessment. At the point I had no idea what it would open me up to and lead me to.
Learning about my Top 5 Strengths was eye opening. It opened me up to a different focus, moving from trying to be good at everything to focusing on my strengths. Moving to embracing my strengths, understanding my weaknesses (when I over play them) and how they are part of who I am. For me personally, it has helped embrace who I am, be successful, move forward from misguided feedback and poor relationships. You can read more of my story on this blog here.
I think I knew deep down we should focus on our strengths, I was always challenged by the thought of making people well-rounded. StrengthsFinder provided a language and framework which aligned with my approach as a leader, coach and father. StrengthsFinder gave me renewed confidence, direction and purpose.
Since becoming a certified Strengths coach in 2015, I have worked with over 700 people 1:1 and in teams. I've partnered with organisations to improve teamwork, leadership, culture, safety and performance, all with a foundation of strengths.