Media
Love sharing our tips, tools, and insights with other inspiring people.  Here's a collection of podcasts and articles where we do just that!
Success Story: Creating Flow in Your Coaching Business with Murray Guest
In this Gallup webcast, I share my insights and tips to create more flow in your business.
The Live Authentically Podcast: The Strength in Our Authenticity with Murray Guest
In this podcast episode I chat with Pamela about life, being authentic, our strengths, and the gift of appreciation.
Humans At Work Podcast – Creating Exceptional Teams with Murray Guest
In this episode, Being More Human's chief conversationalist Michelle Crawford and I talk about creating exceptional teams.
How Strengths-Based Facilitation can Improve the Results of your Workshop 
I chat with Myriam about strengths-based facilitation, how the practice can be applied, and where many facilitators and participants fall down when it comes to our strengths.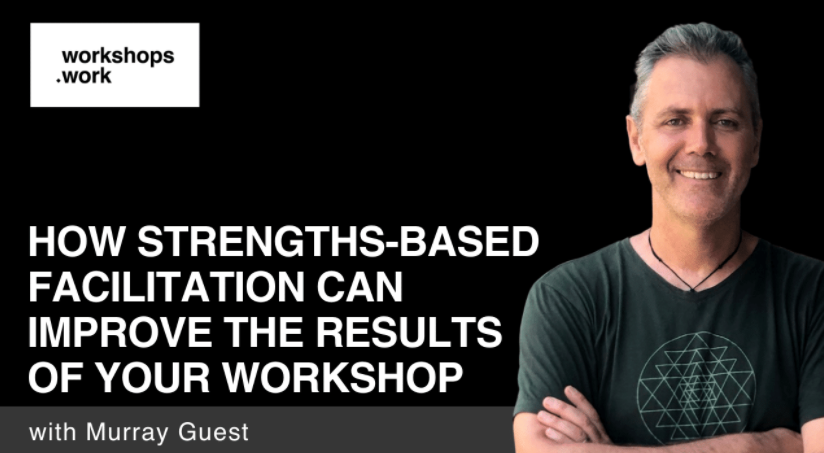 Lead Like You Give a Damn Podcast – Episode 015 – Murray Guest and Becky Hammond
In this episode Becky Hammond and I speak with Dave McKeown about how to become a leader who gives a damn.
22 facilitators and trainers answer: What I wish I'd known before starting my business (Episode 120)
For this episode, Leanne Hughes sent out a request to a number of Learning and Development business owner friends, and asked, "What's the one thing you wish you knew when you started your facilitation business?"
Momentum Life Project Podcast – S5E10: Murray Guest on how knowing your superpowers can change your life
In this episode Kerry Dover and I talk about the CliftonStrengths tool plus how certain events can really shape the future you.
ISOGO TV – Podcast Episode 114: Strengths in Crisis With Murray Guest
In this episode, I share stories of connection in ways that otherwise wouldn't have happened, of the ways I'm using strengths to recalibrate my approach to work, and of promise for leaders who may just feel like this crisis is getting the best of them.
You Don't Know What You Don't Know / The Me AfterWork Podcast
This episode is themed around playing to your strengths and we unpack coaching, leadership and mindset.
Ep 15: A Groovy Enlightened Life: Embracing Your Strengths To Reach Your Highest Potential 
In this episode, we explore living a strengths-based approach to life and how it can assist us to live in alignment with our true self and reach our highest potential. I also share important lessons around mental health that I learnt and experienced during my recovery from a broken neck.
40 Plus: Real Men Real Talk – How to tap into joy, gratitude, and connection
What happens when you lose sight of joy, happiness, connection, and intent in your life? In this episode Rick Clemons and I chat about creating new habits for creating joy in our lives as guys over 40.
ISOGO TV – Your Strengths + Marriage Tension Transformed
When your marriage is great, you're fully in love, and you STILL find yourself facing moments of marriage tension, this episode of Isogo TV is for you.
In this podcast episode I chat to Becky Hammond about how I use the strengths movement in relation to my marriage.
A hostage, a hard-worker and a holiday maker walk into a workshop… with Murray Guest
In this First Time Facilitator podcast interview, we cover a range of topics ranging from the importance of professionalism as a facilitator; to the questions used to get people to start talking to each other at the beginning of a workshop; through to behaviour management.
CliftonStrengths Summit 2017 Feedback
This is a short video from one of the attendees of my breakout session at the 2017 CliftonStrengths Summit. I facilitated a booked out break out session on experiential activities for strengths-based workshops. Loved sharing my learnings and insights with over 150 people.
Gallup Called To Coach 2017
In this episode of Called to Coach, I share the key points and insights from my presentation at the 2016 Clifton Strength Summit on building a strengths-based culture.
UQ Power – Theatre of U
A fun chat with Heidi Alexandra Joy, discussing strengths, culture development, and coaching! I also answer cards # 1 # 5 #9 #21 #45 from the Cards for Uniqueness, Against the Ordinary!
Lead Through Strengths – Lisa Cummings
This was such a fun chat with Lisa, discussing our mutual love of rock n' roll, drums and strengths! We discussed how you can embed strengths into your company culture after StrengthsFinder training. Instead of just participating in a training, then putting your results and notes away, find ways to sustain the use of strengths at work and home. I loved the rapid-fire strengths embedding ideas too! Find out more at www.strengthsculturetoolkit.com.
Dare To Succeed with Alisa Daire Nelson
Alisa has a passion for strengths and her podcast series on unpacking each of the 34 StrengthsFinder themes is full of info and resources. We caught up and discussed the theme of Individualization, which is my no.3. I shared how I've claimed and applied this theme in my role as a manager, coach and father.
Nancy Gaines – The Nancy Gaines Show
Nancy knows a lot about improving your business through systemising and streamlining. Great to be on her show and chat about the benefits of a strengths-based approach!
Gallup Called To Coach 2016
Gallup's Called to Coach is a live Webcast that targets current and prospective coaches to interact with Gallup experts and independent strengths coaches who have found success in strengths-based development. In this podcast, I share my journey to becoming a certified Strengths coach.
ACKNOWLEDGEMENT OF COUNTRY
We acknowledge the Traditional Custodians of NSW, and their continued connection to land, water and culture.
We are based on Awabakal country and feel privileged to be on this land. We pay our respects to Elders past, present and emerging.