About Us
We Partner with organisations to achieve strengths based solutions. We facilitate developing effective leaders, engaged teams, drive cultural change and sustainable growth.
We are passionate about working with people dedicated to making a change in the world, inspiring others and having fun along the way. We do this through strategic partnerships, consultation, 1:1 coaching, workshops and online programs.
Combining over 20 years experience of leading change in large organisations, we have the knowledge of how to inspire others and a belief that everybody should have the opportunity to be the most successful they can be. 
Murray Guest
Passionate about Inspiring others – business coach, facilitator
Murray Guest, the director of Inspire My Business, is a Gallup Certified Strengths Coach and accredited TMP facilitator. He is passionate about people embracing and applying their strengths in all areas of their lives.
He draws on over 15 years' experience leading cultural change in large organisations and diverse leadership experience includes roles as a L&D Manager, Business Development Manager and Quality Assurance Manager. Partnering with clients to inject new energy into their organisation, gain clarity and build an inspired culture that drive business performance and encourages success both personally and professionally.
As a coach and facilitator, over the past five years, he has helped over 4,000 people unlock their strengths and worked with organisations to integrate strengths into their culture to improve leadership, teamwork, communication and also specifically safety performance.
Whether facilitating a workshop, running a retreat or MC'ing an event, he brings his unique humour to create a space that is fun, engaging and full of learning. He is driven by providing training and coaching that develops your culture, that provides tools that can be embedded in your business and skills that can be applied easily for sustainable change.
"Murray is an exceptional leadership and strengths based professional, but more than that he is an exceptional human."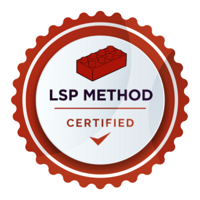 Qualifications & Education
2020
LEGO Serious Play Certification (Pivotal Play)
2015
CliftonStrengths Certified Coach (Gallup)
Team Performance Profile (TMS)
Strategic Team Development Profile (TMS)
Linking Skills Profile (TMS)
Productivity Ninja Certified
2014
Speakers Fast-Trak (Carren Smith)
2011
Six Sigma Green Belt (Rio Tinto)
Diploma of Management (Vocational Institute of Australia)
2010
Cert IV – Front Line Management (Vocational Institute of Australia)
Cert IV – Training and Assessment (Vocational Institute of Australia)
2007
Team Management Profile – TMP (TMS)
Book
Turning Talents into Strengths: Stories of Coaching Transformation
I'm so excited to be a co-author of the best selling book, Turning Talents into Strengths: Stories of coaching transformation, where I share my journey to becoming a Gallup certified strengths coach and the impact I've seen in people's lives.
Podcast
Inspired Energy Podcast
Inspired conversations with Strengths-based coach Murray Guest. Exploring strengths and living an inspired life through conversations that matter.
ACKNOWLEDGEMENT OF COUNTRY
We acknowledge the Traditional Custodians of NSW, and their continued connection to land, water and culture.
We are based on Awabakal country and feel privileged to be on this land. We pay our respects to Elders past, present and emerging.